2018-19 New Faculty Appointments
September 11, 2018 American Studies | Art History and Archaeology | College of Arts and Humanities | Communication | English | History | Japanese | Persian | Roshan Institute for Persian Studies | School of Languages, Literatures, and Cultures | School of Music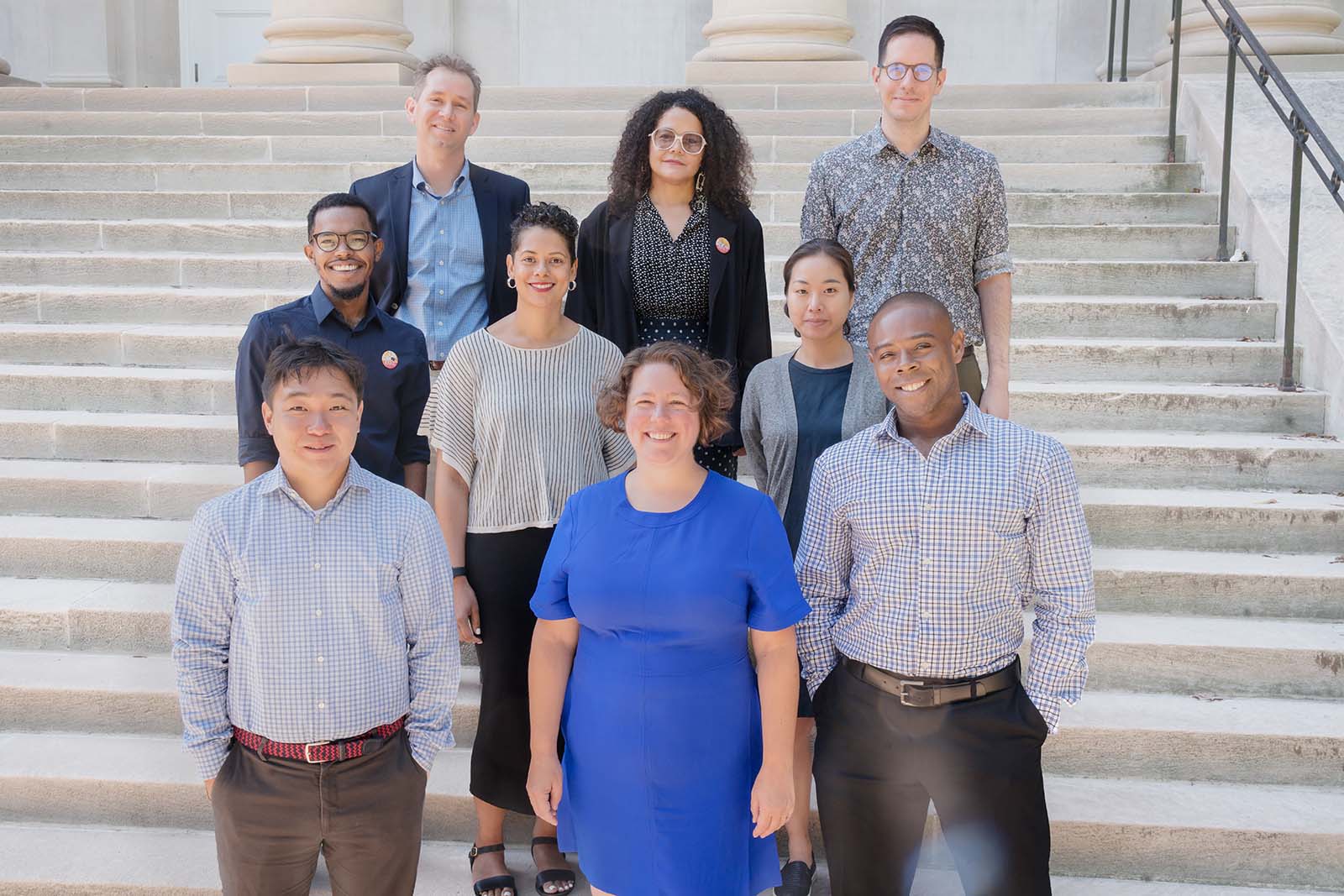 The College of Arts and Humanities welcomes the new faculty cohort to UMD.
Departments of American Studies and Women's Studies
Eva Hageman, Assistant Professor 
Eva Hageman earned her doctorate in American studies from New York University in 2016 with a certificate in culture and media. Her book manuscript, "Relatable Meets Remarkable: Crafting Race in the Reality Television Industry," examines reality television and its role in shaping articulations of race in the 21st century. Her work has appeared on "In Media Res" and is forthcoming in the 2019 anthology "Race Post-Race: Culture, Critique, and the Color Line." In 2018-19, Hageman is a President's Postdoctoral Fellow in the women's studies department. Previously, she was a postdoctoral fellow at the University of Richmond.
Department of Art History and Archaeology
Jordana Moore Saggese, Associate Professor
Jordana Moore Saggese earned her doctorate in the history of art from the University of Illinois, Urbana-Champaign in 2009. She specializes in contemporary African-American visual culture and is the editor-in-chief of "Art Journal."  Her writing has appeared in "Exposure," "Artforum online," "The International Review of African-American Art," "Khan Academy," "Art Journal" and "nka." Saggese's second book, "The Basquiat Reader: A Critical Anthology," will be published by the University of California Press in 2020. Her current research focuses on representations of the black athletic body in popular culture and fine art of the 20th century. Before coming to Maryland, she was an associate professor of visual studies at California College of the Arts.
Department of Communication
Sun Young Lee Assistant Professor
Sun Young Lee earned her doctorate in journalism and mass communication from the University of North Carolina, Chapel Hill in 2012. Her research interests include visual strategies in corporate social responsibility (CSR) messages, strategies to engage the public with CSR activities and the effects of CSR practices in a crisis context. Lee's research has appeared in the "Journal of Business Ethics," "Communication Research," "Public Relations Review" and elsewhere. Her current projects focus on the role of emotions and of public empowerment in the co-creation of social value through CSR activities. Prior to arriving at Maryland, she was on the faculty at Texas Tech University.
Department of English
GerShun Avilez, Associate Professor
GerShun Avilez earned his doctorate in English from the University of Pennsylvania in 2009 with a graduate certificate in Africana studies. He specializes in African-American literature and visual culture. He is the author of "Radical Aesthetics and Modern Black Nationalism," which won the 2017 William Sanders Scarborough prize from the Modern Language Association for an outstanding scholarly study of African-American literature or culture. He has held professorships at Yale University and the University of North Carolina, Chapel Hill (UNC). At Yale, he won the Poorvu Award for Interdisciplinary Teaching. At UNC, he served as the director of graduate studies for English and the director of the program in sexuality studies. He is completing a new book on black gay and lesbian artists.
Chad B. Infante, Assistant Professor
Chad B. Infante earned his doctorate in English from Northwestern University in 2018. Originally from Jamaica, his research focuses on black and indigenous U.S. and Caribbean literatures, gender, sexuality, critical theory and political philosophy. His dissertation studies representations of retributive murder in black and indigenous literature and art as a philosophical response to colonial violence. Before coming to Maryland, he was an inaugural Franke Fellow at the Kaplan Institute for the Humanities at Northwestern. During his graduate studies, he co-founded the Colloquium on Native American Studies and helped create the Indigenous Studies Research Center. He is completing an article entitled "Murder and Metaphysics: Silko and Lorde" to appear in a forthcoming anthology by Duke University Press. 
David Carroll Simon, Assistant Professor
David Carroll Simon earned his doctorate in comparative literature from the University of California, Berkeley in 2012. His research focuses on the literary and intellectual history of 16th and 17th century England, often in connection with the continental Renaissance. His first book, "Light without Heat: The Observational Mood from Bacon to Milton," was just published by Cornell University Press, and his essays have appeared in or are forthcoming in "English Literary History," "Critical Inquiry," "Studies in Philology" and "Criticism." He is now at work on a project about the relationship between laughter and violence in early modernity. Simon taught at the University of Chicago before joining the faculty at Maryland.
Department of History
Patrick Chung, Assistant Professor
Patrick Chung earned his doctorate in history from Brown University in 2017 with a specialization in U.S. military history. His research focuses on the relationship between the growth of the military-industrial complex in the United States and the industrialization of East Asia during the Cold War. He is working on a book, "Building Global Capitalism," that traces the impact of the U.S. military on the "miraculous" growth of the South Korean economy. Chung's work has been published in "Diplomatic History" and been recognized through fellowships from the Society for Historians of American Foreign Relations. He previously taught at the University of North Florida.
School of Languages, Literatures, and Cultures
Jyana S. Browne, Assistant Professor
Jyana S. Browne earned her doctorate in theatre history, theory and criticism from the University of Washington in 2017 with a focus on the performance and cultural history of early modern Japan. She spent two years in Japan for her doctoral work with the support of a Blakemore Freeman Fellowship and a Japan Foundation Doctoral Fellowship. Browne is currently writing a book that examines how early 18th-century puppet theatre about love suicides cultivated an urban, common public in Osaka. Her research has appeared in "Puppetry International" and "Dai 37 kai kokusai nihon bungaku kenkyūshūkai kaigiroku." Before coming to Maryland, Browne taught at the University of Washington and Cornish College of the Arts.
Matthew Thomas Miller, Assistant Professor 
Matthew Thomas Miller earned his doctorate in comparative literature from Washington University in St. Louis in 2016. His research focuses on medieval Sufi literature, the history of the body and sexuality in the Islamic world and digital humanities. He has published articles on these topics in "Middle Eastern Literatures," "Digital Humanities Quarterly," and" Al-ʿUṣūr al-Wusṭā: The Journal of Middle East Medievalists." He is working on a book project, "Embodying the Beloved: Embodiment and Mystical Modes of Meaning Creation in Medieval Persian Sufi Literature," and is the co-principal investigator for the multi-institutional Open Islamicate Texts Initiative.
School of Music
Andrea E. Brown, Associate Clinical Professor
Andrea E. Brown earned her doctorate in instrumental conducting from the University of North Carolina, Greensboro in 2010. She has conducted and adjudicated wind ensembles, symphony orchestras, chamber groups and athletic bands throughout Asia, Europe and the United States. Brown has led an interdisciplinary research project to create virtual conducting software using the latest audio-visual technology and has presented on the subject for the College Music Society, the International Computer Music Conference and the College Band Directors National Association.