2019-20 New Faculty Appointments
August 29, 2019 American Studies | Art | Art History and Archaeology | Classics | Communication | History | Philosophy | School of Languages, Literatures, and Cultures | School of Music | School of Theatre, Dance, and Performance Studies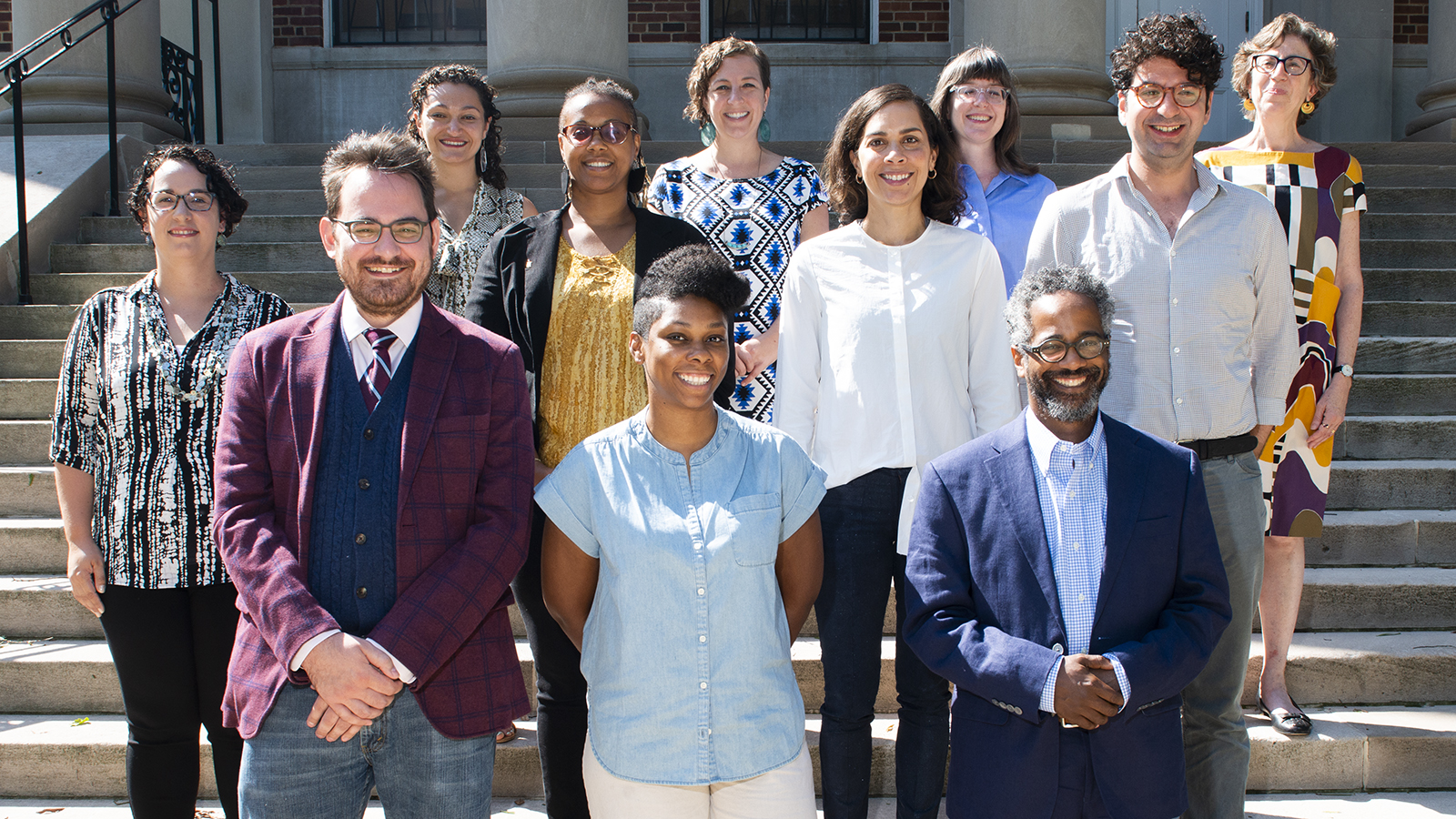 The College of Arts and Humanities welcomes the new faculty cohort to the University of Maryland.
Department of American Studies
Bayley J. Marquez , Assistant Professor
Bayley J. Marquez is an indigenous scholar from the Santa Ynez Band of Chumash Indians. In 2019, she earned her doctorate from the social and cultural studies program at the University of California, Berkeley's Graduate School of Education. Marquez's research examines racial narratives and forms of colonial pedagogy propagated by white educational reformers in the late 19th and 20th centuries in schools created for black and indigenous students. Her archival research on black and indigenous industrial schools has been supported by the Ford Foundation and the Joseph A. Myers Center for Research on Native American Issues. Her current book project, "Settler Pedagogy: Teaching Slavery and Settlement," examines the role of education in the production of settler colonial space and structures of antiblackness. 
Department of Art
Jessica V. Gatlin, Assistant Professor
Jessica Gatlin is an interdisciplinary artist who uses a combination of print media, performance and video to comment on the effects of oppressive social and economic structures. Recent work includes installations that visualize the relationship between gut health and mental health. Gatlin received a Master of Fine Arts from the University of Tennessee, Knoxville in 2017. She has lectured at Tennessee State University and has been a visiting critic at Vanderbilt University and Watkins College of Art. Gatlin spent the past summer as an artist-in-residence at Wassaic Projects and the Ox-Bow School of Art and Artists' Residency.
Department of Art History and Archaeology 
Elizabeth Alice Honig, Professor
Elizabeth Honig earned her doctorate from Yale University in 1992. She studies visual culture in Northern Europe, especially England and the Low Countries from 1500-1700. She has recently written two books on the Brueg(h)el family, including "Jan Brueghel and the Senses of Scale" (Penn State, 2016) and "Pieter Bruegel and the Idea of Human Nature" (Reaktion, 2019). Honig is also the editor of a group of websites on the Brueghel family, including www.janbrueghel.net. Her next project will focus on the prison imagination and early modern incarceration. Before coming to Maryland, she taught at the University of California, Berkeley. 
Tess Korobkin, Assistant Professor
Tess Korobkin earned her doctorate in art history from Yale University in 2018. She studies the art and visual culture of the United States, with particular interests in histories of sculpture, representations of race and violence, and the politics of materiality and intermediality. Her current book project, "Sculptural Bodies of the Great Depression," examines the public life of figurative sculpture in the 1930s. Her research has been supported by the Smithsonian American Art Museum and the Luce/American Council of Learned Societies fellowships. Before Maryland, Korobkin taught at the City College of New York and the Whitney Museum of American Art. 
Department of Classics 
Katherine Wasdin, Assistant Professor
Katherine Wasdin earned her doctorate in classics from Yale University in 2009 and taught at Rutgers University and George Washington University before coming to Maryland. Her research focuses on women in antiquity, particularly in Greek and Latin poetry, as well as the reception of ancient literature in later periods. Her monograph, "Eros at Dusk: Ancient Wedding and Love Poetry" was published by Oxford University Press in 2018.  She has also published articles in Classical Philology, Helios and Classical Journal. Wasdin was recently awarded the Loeb Fellowship and the Howard Fellowship to support her current research on how contemporary female artists and writers engage the work of Roman poet Catullus. 
Department of Communication 
Tamanika Ferguson, President's Postdoctoral Fellow  
Tamanika Ferguson earned her doctorate in communication, culture and media studies and a graduate certificate in women's studies from Howard University in 2017. Her research focuses on the advocacy and media activism of incarcerated women in California. Her work has been published in "#Fierce Feminism: Women in the 21st Century: An Interdisciplinary Approach" (Kendall Hunt, 2018) and presented at numerous academic conferences. Ferguson's major goal during the postdoctoral term is a book manuscript on incarcerated women's advocacy for structural change in the prison and criminal justice system. The project situates media activism within a broader, historical discussion of political activism for social change in the United States and the extent to which incarcerated women's social and political communication influences criminal justice policies. 
Department of History 
Quincy T. Mills, Associate Professor
Quincy T. Mills earned his doctorate in history from the University of Chicago in 2006. Prior to arriving at Maryland, he was a faculty member at Vassar College. Mills specializes in 20th-century African American business and social movement history. In 2013, he was awarded a fellowship from the American Council of Learned Societies. He is the author of "Cutting Along the Color Line: Black Barbers and Barber Shops in America" (University of Pennsylvania Press, 2013). He has discussed his research on media outlets such as NPR and MSNBC. He is currently working on a new book entitled "The Wages of Resistance: Financing the Black Freedom Movement."
Erin Mosely, Assistant Professor
Erin Mosely earned her doctorate in African studies from Harvard University in 2016. She specializes in modern East and Central African history with a thematic interest in the politics of history and memory after mass violence. With the support of a Fulbright grant and a Foreign Languages and Area Studies Fellowship, Mosely spent two years in Rwanda for her doctoral work. She then received a Mellon/American Council of Learned Societies Dissertation Completion Fellowship. She is currently writing a book that examines the changing political, legal and archival landscape in Rwanda since the 1994 genocide and its broader consequences for the Rwandan historical field. Before Maryland, Mosely was an assistant professor at Chapman University. 
School of Languages, Literatures, and Cultures 
Josh Alvizu, Assistant Professor 
Josh Alvizu earned his doctorate in Germanic languages and literatures from Yale University in 2017. His research focuses on the European avant-garde and the environmental humanities. He has published on these topics in Modern Language Notes, Seminar and the Bloch-Almanach. He is currently at work on a book project, tentatively titled "Montage Practice: Militant Modernism and the German-Soviet Avant-garde." Prior to arriving at Maryland, Alvizu taught at Washington & Lee University, the Virginia Polytechnic Institute and State University and Roanoke College. 
School of Music 
David Neely, Associate Professor
Newly appointed to serve as the director of orchestral activities, David Neely is an internationally active conductor and educator in symphony and opera. He has performed with the Portland Symphony, Dortmund Philharmonic, Bochum Philharmonic, Bregenz Symphony, Bonn Opera and Dortmund Opera, among many others. He is music director and principal conductor of Des Moines Metro Opera, an acclaimed summer festival, where he recently conducted Berg's "Wozzeck" and Bernstein's  "Candide." Neely has served on the faculties of Indiana University, the University of Kansas and the University of Texas. He received a bachelor's of music in piano performance and a master of music in orchestral conducting from Indiana University. 
Department of Philosophy 
Paolo Santorio, Associate Professor
Paolo Santorio earned his doctorate in philosophy from the Massachusetts Institute of Technology in 2011. He specializes in philosophy of language and philosophical logic and has worked on a variety of topics, including the semantics of modal expressions, context-dependent language and theories of meaning for nondescriptive discourse. His work has appeared in several journals, including Philosophical Review, Mind and the Journal of Philosophy. Before coming to Maryland, Santorio was a postdoctoral fellow at the Australian National University and held permanent positions at the University of Leeds and University of California, San Diego. He is currently working on a large-scale project on counterfactual thought and talk.  
School of Theatre, Dance, and Performance Studies 
Melissa Blanco Borelli, Associate Professor
Melissa Blanco Borelli earned her doctorate in dance history and theory from the University of California, Riverside in 2006. She is the author of "She Is Cuba: A Genealogy of the Mulata Body" (Oxford, 2015), awarded the 2016 De la Torre Bueno Prize for best book in dance studies. Blanco has been faculty at the Massachusetts Institute of Technology, University of Surrey and Royal Holloway, University of London. Her research interests include identity and corporeality, blackness in Latin America, dance on screen, historiography, autoethnography and digital humanities. A recipient of a UK Arts and Humanities Research Council grant, she is the principal investigator on a project that co-creates digital performance archives with Afro-Colombian and indigenous communities affected by armed conflict. She is the incoming president of the Dance Studies Association.
Back row L-R: Tess Korobkin (art history and archaeology), Erin Mosely (history), Katherine Wasdin (classics), Elizabeth Alice Honig (art history and archaeology) | Middle row L-R: Bayley Marquez (American studies), Tamanika Ferguson (communication), Melissa Blanco Borelli (School of Theatre, Dance, and Performance Studies), Paolo Santorio (philosophy) | Front row L-R: Josh Alvizu (School of Languages, Literatures, and Cultures), Jessica V. Gatlin (art), Quincy T. Mills (history). Not pictured: David Neely (School of Music). Photo by David Andrews.