ARHU 2022 Service Award Winners Announced
October 12, 2022 American Studies | History | School of Languages, Literatures, and Cultures | The Harriet Tubman Department of Women, Gender, and Sexuality Studies | Communication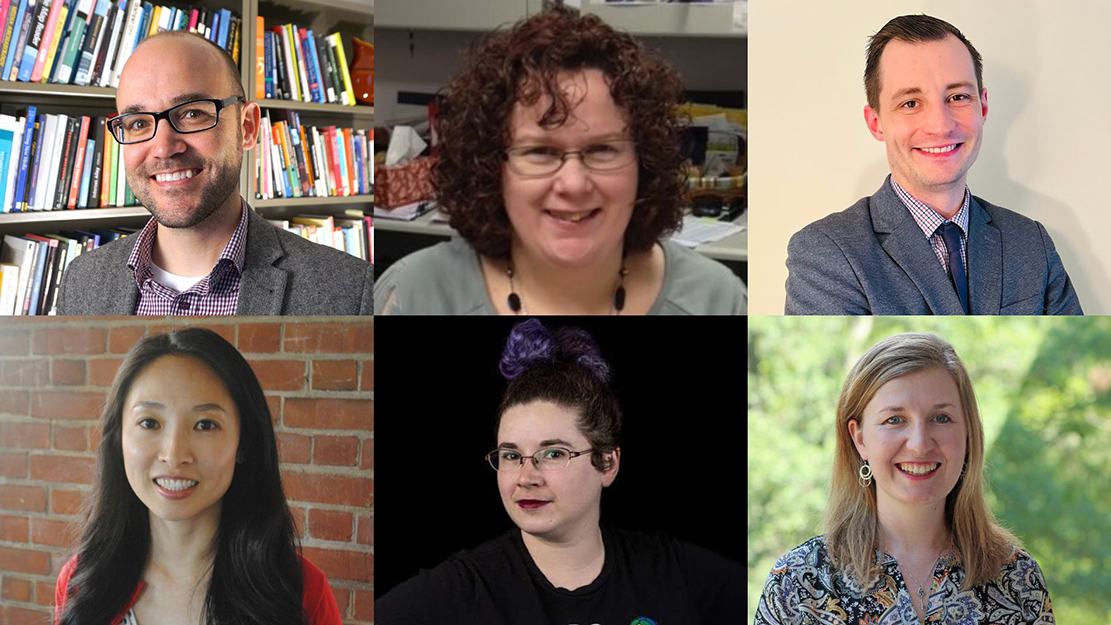 Six exceptional members of the ARHU community received an annual service award.
By ARHU Staff 
Each year, the College of Arts and Humanities honors faculty, staff members and students who have demonstrated excellence through service to their departments and the college.
2022 ARHU Service Award winners: 
Jason Farman, professor of American studies and former director of the Design Cultures & Creativity Program | Faculty Service Award, Service to College
In his eight years as director of the Design Cultures & Creativity (DCC) living-learning program, Jason Farman oversaw substantial improvements in the program, including a more diverse student population served by DCC, increased visibility for DCC both on campus and off and greater collaboration between DCC and other units in ARHU and beyond. For instance, he implemented the DCC Capstone Grant and DCC Capstone Awards for student projects, which have funded student work in a variety of disciplines across campus, such as innovative virtual reality projects. A collaboration with The Clarice Smith Performing Arts Center co-funds an award for a project related to the NextNOW Fest. And a partnership with Adobe led to the company becoming a co-sponsor of some of DCC's grants and awards and sending representatives to facilitate DCC award ceremonies, thus expanding career opportunities for DCC students. But perhaps most notable is the sense of community that expanded under Farman's directorship, including through events like design camps, workshops and movie nights that put DCC alumni together with current students. Peter Mallios, executive director of the Honors College and associate professor of English, said "there is no program on this campus … that has generated the kind of supported, enthusiastic, deeply humane and diverse community that I have seen among students in DCC." Farman "demonstrated imagination, dedication, leadership and extraordinary success," Mallios said.  
Lisa Klein, director of finance in the Department of History | Staff Service Award, Service to College
Over seven years in the Department of History, director of finance Lisa Klein has worked to administer almost every area of the department's operations. In addition to her financial responsibilities, she allocates space, coordinates faculty moves, processes visa and green card applications, handles travel, deals with facilities and more. She also "keeps her door open, has a word of encouragement for everyone and is a trusted adviser in research, teaching and personnel affairs with a focus on pragmatism and realism," said Professor Peter Wien. Klein has participated in a number of activities at the college and university level, including ARHU's Staff Council and the University Senate, where she most recently chaired a committee charged with reviewing and commenting on a new background check policy. As a testament to her constant willingness to help out, Klein also served as the interim business manager for the Department of Art for several months in the 2021–22 academic year. Even after the position was filled, "Lisa has continued to go above and beyond by providing guidance and mentorship to [the] new business manager," said Associate Professor and Department of Art Chair Brandon Morse. 
Nick Misukanis, Ph.D. candidate in history | Graduate Student Service Award
As history undergraduate advisor, Ph.D. candidate Nick Misukanis is responsible for providing guidance to over 300 history majors and 200 minors, including information on academic requirements needed for degree completion, help with future study or career plans and general advice. In nomination letters, he was lauded for creating a welcoming environment for students, as well as for his calm and composed manner—including during the stress of the COVID-19 pandemic. Misukanis has led efforts to reorganize advising to take place entirely online and helped the department transition from a listserv to a new Google Group for improved communication. During the pandemic, he also reached out to advisors of history students enrolled in majors outside of the department or college as a way to provide added support. Associate Professor of History and Director of Undergraduate Studies Antoine Borrut said Misukanis' presence in the advising office "is a tremendous asset" for the department, adding that he has rarely seen a graduate student play such a major role in undergraduate advising. "His work ethic is absolutely flawless and he is always ready to walk the extra mile to help students," Borrut said. Misukanis, whose own research focus is international European and Middle Eastern history, also serves as academic advisor to the department's Middle East minor and event coordinator for the Middle East graduate field committee.
Janny Peng, assistant director for finance and administration in the School of Languages, Literatures, and Cultures | Staff Service Award, Service to Department 
In a nomination letter, nine faculty members from the School of Languages, Literatures, and Cultures called assistant director for finance and administration Janny Peng a "trusted partner and valued collaborator." Peng was instrumental in putting together budget requests for Teaching Innovation Grants that will transform 30 SLLC courses in eight languages (Chinese, French, German, Hebrew, Japanese, Korean, Russian and Spanish) and she provided ongoing support for countless grants, flagships, externally funded research proposals and external partnerships. But beyond her financial work, Peng amounts to "nothing short of a chief of staff," said former SLLC Director Juan Uriagereka, professor of Spanish and Portuguese and linguistics, as "a result of the quality and quantity of her professionalism, as well as her capacity to motivate others with grace, clarity and self-discipline." During a time of transition and upheaval due to the COVID-19 pandemic, "it is encouraging to always find a 'rock' that not just has the right answers when they are most needed, but also knows how to explain it all while deferring credit to those around," Uriagereka added.
Gwen Warman, academic program manager in The Harriet Tubman Department of Women, Gender, and Sexuality Studies | Staff Service Award, Service to Department 
During the last year, as The Harriet Tubman Department of Women, Gender and Sexuality Studies successfully recruited three new faculty members, conducted four separate staff searches and organized a move to a new space, all while being short-staffed, academic program manager Gwen Warman "provided stability and maintained the functioning of departmental processes" from start to finish, said Neda Atanasoski, professor and chair. "It is not an understatement to say that without Gwen, none of these major tasks would have been accomplished," she said. At the beginning of the year, Warman was already handling significant duties for the department in her position as the undergraduate advisor, running much of the work for the undergraduate program and managing key administrative tasks. When the former graduate coordinator departed in the fall, Warman took on additional responsibilities, including leading a number of events and taking over all advising in the department at the graduate and undergraduate levels. "Gwen repeatedly came to the rescue whenever difficulties arose," said Professor Neel Ahuja.
Carly Woods, associate professor & co-director of graduate studies (recruitment/admissions) in the Department of Communication | Faculty Service Award, Service to Department
Carly Woods' service to the Department of Communication is extensive: At present, she is co-director of graduate studies, overseeing all graduate student applications and admissions and hosting a multitude of events, as well as a member of the Graduate Studies Committee and the Rhetoric Minor Committee. Previously she was a member of the department's Salary Advisory Committee, Faculty Advisory Committee and Administrative Committee. Outside of the department, Woods serves on the UMD Graduate School Inclusive Education Faculty Working Group as well as the Graduate School's Office of Diversity and Inclusion Retention Working Group. She has also served at the university level as a member of the Campus Affairs Committee for the University Senate. She's maintained this level of service all while being an award-winning teacher, chairing four doctoral committees and serving as a member on 29 dissertation committees. As co-director of graduate studies during the COVID-19 pandemic, Woods went "the extra mile" to provide additional support for students facing "unique academic, health and financial challenges … [giving] herself over fully to the protection and advancement of graduate students," Associate Professors Erich J. Sommerfeldt and Anita Atwell Seate wrote in their nomination letter. Associate Professor of Communication Catherine Knight Steele—Woods' faculty mentee in the 2020–21 academic year—said that Woods' dedication has led to an outstanding new class of graduate students. The "cohort is a testament to the value Dr. Woods places on diversifying the discipline and the extraordinary amount of labor it takes to overcome systemic issues in higher education with diversity," she said, adding that Woods "embraces diversity, not as an ideal, but a lived practice." 
For more information on ARHU's service awards and to see previous winners click here.